Serving Greater Johnstown and Western Pennsylvania!
Welcome to
Atomix Sounds DJ Service

! Making weddings, parties, school events, and other celebrations a blast since 1994!
TESTIMONIALS
We had Tom Hoover for our big day and are SO glad that we did!!! He met all of our expectations for a wedding DJ and so much more. From the planning meetings to the actual day, Tom was so organized, fun, and efficient. He made everything run smoothly with his suggestions for our timeline. His music selections were perfect for our crowd and we all had such a blast! The dance floor was full all night long. We would recommend Tom to anyone and everyone! Chris and Maureen Kalfas
Tom was EXCELLENT. From all the planning and details before our wedding day, down to following the schedule and keeping our guests entertained all evening- he's the best around! The music selection kept everyone dancing all night long- I don't think our dance floor was EVER empty! Not to mention the monogram he designed for us and great up lighting that brought the whole thing together! I recommend Tom to everyone looking to have their wedding or event be the party of the year! Zackary and Rebecca Hunter
Always does a great job! Everything was perfect and Tom worked with us for everything. He made great suggestions on certain things and was willing to get creative with us since our theme and reception was a little more unusual than most! We were thrilled with all he did to make our day great! He kept us informed with everything and if something else needed tweaked or done he kept us informed right away. Highly recommend Atomix DJ service to anyone and everyone and Tom is great to work with and highly professional but down to earth enough to make you feel comfortable talking with him. The music was great, both new and older stuff. Tom's M. C.ing was great as well. The hall was beautiful with the uplights and the monogram added an extra special touch to everything. If you want ur wedding or event to run smooth, done properly (whether it's serious, fun, or a mixture), be an awesome time and look fabulous for a reasonable price then hire Atomix DJ services.... you'll get everything you want and then some! Mikeand Roni Burkett
Thanks for being a part of our big day. We are glad you were our DJ as we celebrated. As usual, you did an awesome job! We couldn't even picture anyone else in that role. You kept the night running smoothly. Thank you again. Bowers and Whitney
Tom did an incredible job at our wedding! He was the perfect person to help me plan out every detail of the reception. He was easy to get ahold of and returned my messages in a timely manner. He kept our dance floor packed the entire night! I would recommend him to anybody in a heartbeat!!
Tom was wonderful, friendly, and easy to work with. He had everyone dancing right from the start. He has great ideas and keeps the night flowing easily. I would highly recommend.
Thanks to Tom Hoover for making our wedding day celebration absolutely perfect! He not only DJ'd but he ran the whole event for us so we didn't have to think, or worry about a thing. We highly recommend Tom to DJ your special event. He is top notch and an all around great guy! Thanks again Tom! Rick and Angie Cameron
We would highly recommend, and have been recommending, Tom to DJ your special event. He was fantastic from beginning to end. He is well organized before the event with a schedule sheet that he keeps during the event and a couple meetings to have things set before the day. He coordinates with the venue for set up so you don't have to worry about anything after the planning meeting. The day of the event went off without a hitch because Tom kept everything moving. Everyone commented about the amazing selection of music as he kept everyone on the dance floor. He is amazing at reading the crowd as no one had to request music because he was just that good at knowing what to play. He absolutely made the event so much fun with all the dancing and games played to keep the crowd entertained during the dinner. Tom should be the first DJ you call when planning your event. We highly recommend him to DJ your event. It will be the best decision you make!!! THANKS TOM!!!!!! :-)
Tom Hoover-All I need to do is say your name and it's like I just lit a fire under everyone's behinds! You're an amazing DJ, but more important, an amazing friend. Who wouldn't want to book your services on their special day? Jim and I and all of our family and friends always have a blast when you DJ. Always picking the right music from start to finish, never a dull or silent moment. You rock the house anywhere you go. People appreciate you not only because you play good music, and keep the crowd on their feet, but because you care about making their day worth remembering for a long time! You're one of a kind and I hope people can see that through all these testimonials. Jim and I thank you so very much for making our day truly unforgettable. We love you ♥ Jim and Jessica Decker
Mr. Tom Hoover...how could I thank you enough! I knew the moment Justin proposed i wanted you as my DJ. You did all the school dances at United growing up, all the weddings I have attended, and even the bar where you DJ most Fridays. You know how to keep a crowd alive and you knew what I would request before I even asked. Literally, I would go request a song and it would already be on the screen to play next. You know the crowd. Not even thinking Tom was very helpful with wedding planning. Since I had an outdoor wedding i forgot about music for my bridemaids and me to walk down the aisle to. In our meeting he mentioned it and found out he could do the music for the outside ceromony. It was beautiful music!!! He had a sheet to fill out step-by-step on how the evening would go and even though I switched it around he went with the flow. My father and I did a special dance which he mixed up for us and sent to us to practice. He was understanding and always checked in with me to clarify our secret dance and everything was still correct and in order. If I ever need a DJ for a family fuction or birthday party i would call Atomix Sounds ASAP to book it!!!! Spots fill up fast and I hope everyone now knows why!!
Tom Hoover is a class act. Two years after our Son and Daughter in law got engaged, we immediately booked Tom. Atomix Sounds DJ Services should be one of your first phone calls when planning a wedding reception. Leave your reception in skilled hands. Emily & Shawn's wedding reception was awesome.From the cutting of the cake, special dances, the bouquet & garter toss,& Tom's "Signature additions" provided very special memories. Everyone was up and on their feet; his large genre of music appealed to our guests.The up-lighting, monogram, and special effects provided an additional ambience to the Indiana Country Club venue. Our family and friends expressed how much they enjoyed the music and dancing. Thank you Tom for your special touch on a PERFECT DAY!!! Emily & Shawn Kendrick
We used Atomix DJ for our Country Club wedding and we really couldn't have made a better decision! Tom is a very experienced personable DJ and takes time to get to know the couples he works with through a easy-to-use document to plan out music of your choice for the evening. He knows how to keep your guests having fun on the dance floor and is very attentive to detail. We were extremely pleased with the uplighting and monogram he created. If you want a fun yet professional DJ that will keep your party going (and everything on time) book Atomix!! Adrienne & Tim Rash
Tom did a GREAT job with the music, involvement with the guests, and the pictures he took. We are very satisfied with the job that he did. Jodie & Joe Peter
Tom - You have such a relaxing yet professional atmosphere. Your music was fun and exactly what we asked for. You can see from our pictures that there were only smiles that day. Thank you for adding to the wonderful day! Mr. & Mrs. McGinnis Thanks again! It was such a perfect day :)
I have known Tom for a long time and been to several weddings where he has been the DJ, and I knew I wanted him to be the DJ for our wedding as well! Tom does a fantastic job! He is professional and entertaining, and kept the flow of our reception moving despite the disorganization of the venue that day! We truly appreciate all your help and hard work Tom! Thank you again! Justin & Leigh Freno
Tom was wonderful in making our day special. Was open to all of our requests & was great with making his own suggestions based off his experience! Would recommend to anyone getting married, or just in need of a DJ. Justin & Tisha Ellenberger
We're very happy we chose Tom as our wedding DJ! He was super accommodating and knew exactly how to keep our wedding moving. His song choices were great and made that part of our day stress free! We would recommend him to anyone searching for a great DJ. Brady and Kyle Keane
Atomix DJ Service was our First and ONLY choice for our entertainment for our Wedding. Tom was absolutely wonderful to work with, very organized and easy to communicate with. He definitely knows what he is doing! Our wedding reception was an absolute blast and he kept things moving smoothly. We have recommended him and we will continue to recommend him to anyone looking for a good time!!!! Thanks for a wonderful and fun reception Tom! Jillian and Adam Chilenski
We could not have asked for a better DJ experience for my wedding! Tom is so organized and experienced! We credit the success of our reception to him. Tom kept the party going and kept our guest dancing! He was easy to work with from the moment we booked him to the end of our reception. Without a doubt We would recommend Tom to anyone looking to have an outstanding wedding reception or event! -Deanna & Jared Stewart
Thank you so much, Tom!! You are absolutely wonderful and you helped make our day perfect!!!!! Elizabeth and Paul Dabbs
Tom provided the perfect entertainment for our wedding reception. We have had multiple guests tell us that was the most fun they have had at a wedding. Tom did a great job keeping things rolling and made sure we had time for everything. From providing us with the opportunity to play the newlywed game, which gave our guests some good laughs, to introducing the Ohio crowd to the legendary Bolivar worm, Tom made our wedding reception a night to remember! Tom also provided the music for our wedding ceremony, and went above and beyond to find the exact music we requested. From the planning phase to the end of the wedding night, Tom made everything easy, professional, and downright outstanding! Thanks, Tom! Sincerely, Jared and Sara Patton
Thank you for being such a special part of our wedding. It was a pleasure to have you as a DJ. Your personality was fun and helped everyone to have a great time. The music sounded fantastic. It made us so happy to see the dance floor crowded with people. That is all thanks to you and your perfect selections. Music is such an important part of a wedding. The moments of dancing with Brian and my Dad were unforgettable thanks to you. I'm so glad you posted pictures of the reception on Facebook. We look at them all the time to relive the day. Thank you from the bottom of our hearts for making our wedding so much fun. Sincerely, Jen & Brian Omahne
Atomix DJ Service was our first choice of entertainment for our wedding reception and let me tell you it was a great choice! Tom is very easy to work with and very professional at what he does. His energy and ability to read the guests went above and beyond any of our expectations. Unfortunately the weather did not cooperate towards the end of the night but Tom kept the music playing and the guests into the party and on their feet. It turned out to be a great night and we couldn't have done it without great entertainment. I would highly recommend hiring Atomix DJ Service for not only your wedding reception but for any event. Thanks again for making our day the best it could have been! Teri & Matt
As soon as we got engaged, we knew we wanted Tom to be the DJ at our wedding reception. He had everything timed out perfectly for our reception! The music was great, Tom was very professional, and everything ran smoothly! We couldn't have asked for a better DJ. We highly recommend DJ Tom Hoover for any event!
Our guests were up dancing all night long. He listened to everything we wanted and gave us great ideas. He played a variety of music from oldies to rap. Tommy made our reception a night to remember for us and our guests. We would highly recommend for him any DJ services. Breann and Ryan Perry
Friends and family are still talking about how much fun our wedding reception was thanks to the music Tom was playing that kept the dance floor full the entire night! Tom does a great job playing a variety of music that allows everyone to have a great time! The addition of the up lighting he brought to our venue was the perfect touch that brought the entire room together. Not only was Tom a fun and entertaining DJ, he was very professional, organized, and well rehearsed with the flow of a wedding reception.
Hi Tom! I just wanted to give a final thank you for everything you did for our wedding. We got SO many compliments on you and could not have been happier! Take care :) Leah Friedhoff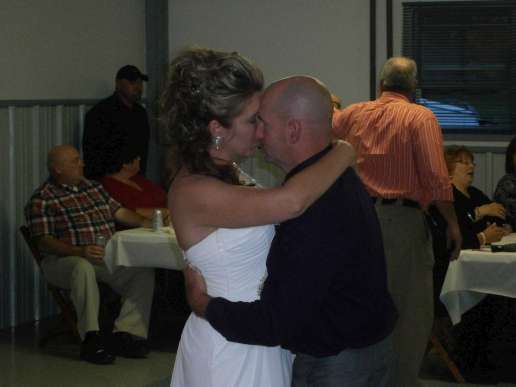 When you hire Tom, you're hiring "Professional Fun". He came prepared, organized, and was great to work with no matter what we asked for. He played a mix of our songs, songs for the young and old at heart, and just an all-around fun mix of music. We'd use his service again and would recommend him to anyone looking for a great DJ service. Thanks again Tom! The new Mr. & Mrs. Glenn and Beverly Flickinger
Even before my husband and I got engaged, we knew that we were going to use Atomix DJ services for our wedding. We were always impressed any time we attending a function where Tom was the DJ...whether it was a wedding, a benefit, or just a fun night out. Not only does he keep great music playing all night long, his level of professionalism and expertise are unmatched. He excels at reading the crowd, playing appropriate music for any moment, and, above all, keeping any function running smoothly. He was a life saver at our wedding when it came to keeping everything on track. I would not only recommend Tom's services to any of my friends and family, but would also use them myself for anything I plan in future!
Tom made our wedding reception so much fun and hassle-free! He was able to coordinate every piece of our event and worked so well with our photographer and caterer to make sure everything moved in the perfect sequence of events. He played a wide variety of music genres and did a fantastic job of reading our guest's mood which kept people on the dance floor all night long. With Tom you don't just get a DJ or someone to play music, you truly get someone who makes your wedding reception perfect, carefree and FUN!!! We could not have been happier or more pleased with Tom! A number of guests told us that they have never had more fun at a wedding and that is all thanks to Atomix DJ Service! Paul and Tiffany Eicher
Tom did one amazing job at our wedding....extremely fun to work with and a great variety of music....my husband is a country kind of guy me not so much and Tom had everything we needed to cover all of our music needs.....great rates cheapest by far and I did a lot of price comparing...great overtime rates too we didn't want the party to end!...everyone absolutely loved our reception and Tom was definitely a big part of that....Nicki and Danny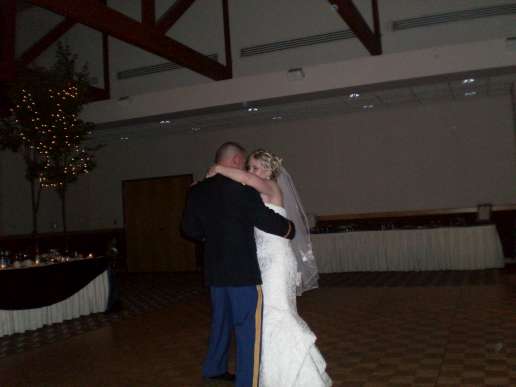 Tom, We wanted to let you know that our wedding day was not only beautiful...but FUN! And that is partly because of you! We were so happy to see how you got people up dancing by playing the right music at the right time! I never thought I'd see the day when my mom would be dancing to "Baby Got Back" LOL! And yet there she was! Our family & guests had a BLAST..and everyone kept saying how great the music was! And the way you did the Military Salute...that meant a lot to us! If we ever hear of anyone needing a DJ in the area, we won't hesitate to give them your info! Thanks again! Eric & Amy Bowser
Dear Tom, Bob and I would like to thank you for everything. We can't get over how many people come up to us and asked who you were and how we found such a great DJ. I told them the yellow pages (HA!! HA!!) I can't give away all my little secrets now can I. We hope you enjoyed yourself as much as we did, and we greatly appreciated the fact that you did wear casual clothing. Bob and I would like to tell anyone whom is reading this to know that Tom isn't just a DJ, but he becomes a friend and someone you can talk to. Bob and I had a lot of things go wrong during the planning of our wedding and when we talked to Tom, it was like a weight was taken off my shoulders. He knows what to do, when to do it, and at what time. Everyone including us were so pleased with how the teddy bear toss for the kids turned out. An people let me tell you, we are a family big on kids, so if you are wanting to include them into your wedding Tom has some great ideas. The "Old Time Of Rock n' Roll" party kit was also a huge hit with both the kids and the BIGGER kids lol. You were great in every way and Bob and I can't express enough just how much we appreciated your time and your dedication to a job you seem to love and enjoy. Thank you again for everything I know I could be a pain, but we all survived!!! Thank You, Thank You, Thank You, Bob and Crissy Anderson
Tom - CK and I would like to thank you for the fantastic job you did at our wedding on October 17, 2009 at the Oklahoma Schoolhouse Hall. You definitely deserve the credit for everyone having such a good time. You kept everything moving and took care of handling everything that needed done, all of which allowed us to enjoy the evening with our guests. We would definitely recommend you to anyone looking for a DJ. It was a pleasure working with you and a night we will always remember. Linda & CK Lui
Tom, I wanna thank you for making the Cragle wedding a blast. Had a great time dancing as you played all the right/fun songs. Mary Ann
Hey Tom, You did such a great job at our wedding and I love all the pics!! You rocked and all of our guests loved you too!! Can't wait till Jill and Adams wedding next year!! Take care and see ya then! Ashley and Matt Lichtenfels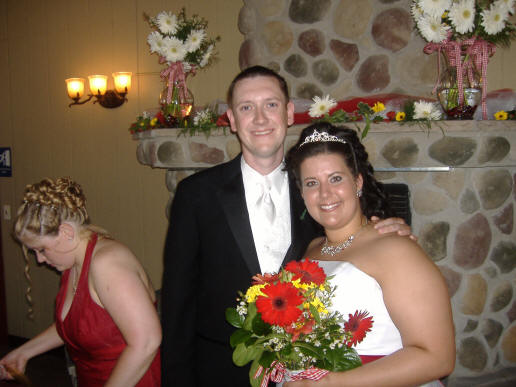 Just wanted to let you know that you did a WONDERFUL job at the wedding, it was absolutely perfect!! And the pics on your website at great!! Thanks for doing such a wonderful job and if you ever need a referral or something in writing let me know!! Thanks again, Stephanie Stewart!
Hi Tom, Just wanted to drop you a line from across the pond, for such a fabulous job you did for Jess and myself on our wedding day. You made the venue come alive and we had so many wonderful comments from our guests who all said it was the best wedding reception they had ever been to! My English relatives and friends couldn't believe you could have so much fun and games at a wedding reception. You should open an English arm to your business. You'd clean up! Many many thanks again for helping make the whole night an incredible memory. Love Jess and Mike Worssell
Tom, You are a FABULOUS DJ!!!! We had so many comments at our wedding on May 26 about what a wonderful job you did! Everybody loved all of the ideas you had for the reception - like the pulling names for kissing, the candy toss, announcing birthdays/anniversaries, and so much more! Our wedding day was absolutely amazing and we couldn't thank you more for being such a big part of it and making sure everything ran smoothly. We have recommended you to some of our friends, and hope to continue to spread the word about your DJ service! Thank you, again, for helping to make our wedding day so wonderful :) ~Mike and Meagan Rushe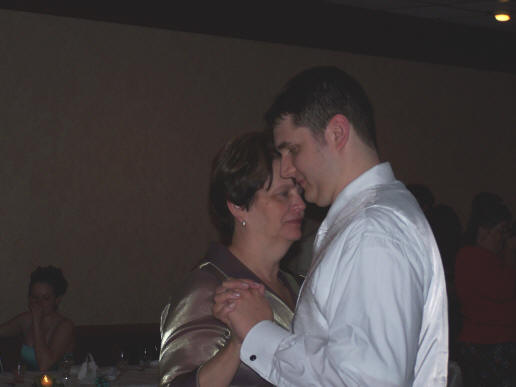 Tom, I am John Rushe, father of the groom at the 05/26/07 wedding. We live in Erie PA and did not actively participate in many of the wedding decisions due to distance and the fact it is the "bride's day". We trusted our daugther-in-law and her family to choose someone to handle the entertainment. We have had many favorable comments about the reception you guided. Several younger people thanked us for inviting them because they had such a good time. The kids, including our grandchildren, had a wonderful evening. Friends and relatives took time to tell us they were very impressed with the organization and flow of the evening's events. Thanks for making a very special day even more enjoyable! JOHN
Tom, You did such an amazing job at our wedding. Everyone talks about how much fun our wedding was and I know that it is because of the music. I was at a wedding a few weeks before mine and no one was dancing. A DJ makes or breaks the reception. You made ours!!!!! Shannon and Scott Anderson San Diego, CA
Please also visit us on Facebook!